20 décembre 2008
6
20
/

12
/

décembre
/

2008
00:18
Toujours inspirée du challenge de Mlaure sur le forum de l'Atelier de Lavande (faire un carte de Noël sans utiliser les couleurs traditionnelles : vert ,rouge ou bleu ).
Always inspired by the Mlaure's challenge on the forum of :l'Atelier de Lavande( make a Christmas card without using the traditionnal colours : red,green and blue)
La première qui plaît beaucoup à ma petite nièce (très branchée rose et princesses)est faite de pliages en rosace.
J'ai utilisé les papiers Stampin'Up! dentelle lavande et bouton de rose,la perfo carré festonné de stampin'Up! ,une perfo flocon de neige ,du gel pailleté "Tulip", du glossy accent, de la versamark ,la roue So swirly de Stampin'Up!,un mot du set : Présent parfaits de stampin'Up et un perle de pluie
The first one who please so much to my little nièce (very girly,she likes pink and princesses) ,is made of folding.
I did use Stampin'Up! papers :lavender lace and blush blossom,the Stampin'Up scallop punch,a snowflake punch,some glossy accent,some "Tulip" glitter gel,versamark ink,Stampin'Up! :So swirly wheel,a word from stampin'Up! stamps set :perfect presents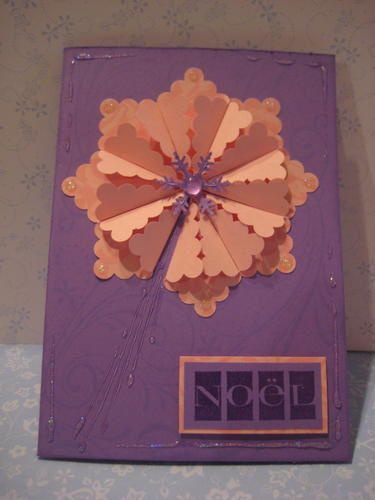 La deuxième est une carte "portefeuille" comme je les adore,dans des teintes gourmandes :Marron comme le chocolat chaud que l'on boit à la veillée et orange comme celle que l'on offrait à nos parents pour Noël à leur époque.
The second one is a "wallet"card like I like,with greedy colours : brown like the chocolate and orange like the one our parents used to receive for Christmas when they were youngs.
Pour celle ci,j'ai utilisé les papiers Stampin'Up! : pépites de chocolat pour le marron et tarte au potiron de la série design .Toujours Stampin'Up pour les sets de tampons : une joyeuse saison et cadeau merveilleux , les encres presque cacao et pépites de chocolat.
for this one ,I used Stampin'Up! papers : chocolate chips and from the "design"serie : pumpkin pie.
Stampin'Up! also for the stamp sets :season of joy and wondrous gifts,and for the inks :close to cocoa and chcolate chips