1 septembre 2010
3
01
/

09
/

septembre
/

2010
14:46
Re bonjour ,
Comme promis ,voici la suite des tutos des fleurs 3D ,toujours aidée par ma grande copine ZAZA qui joue mon mannequin "main" et son assistant un peu turbulent Mr Mi-mai.
Hello again ,
As promise,here are some tutos for the 3D flowers,still helped by my good friend "ZAZA" and her "silly" assistant Mr Mi-mai
1)--Rose-"escargot"
--"snail"-rose
Commencer par couper un rond en vous aidant d'une perfo,d'un verre ,d'une boite ou tout autre objet circulaire .
Begin by cutting a circle helping you with a punch ,a glass ,a box or any round objects.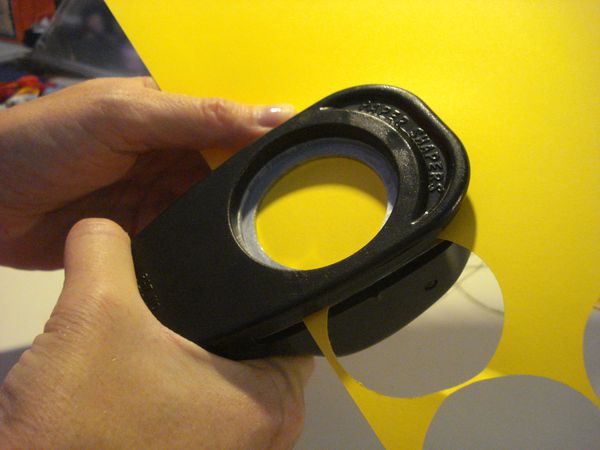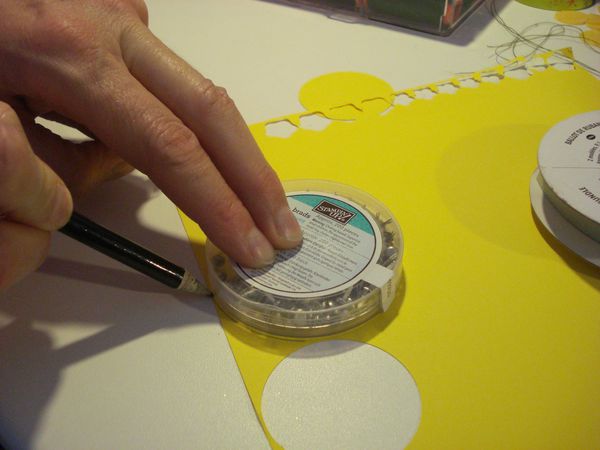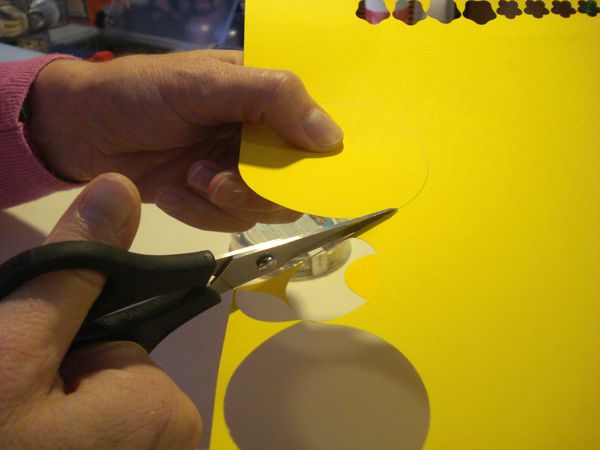 Dessiner votre trait de découpe en forme d'escargot.
Draw a kind of snail to cut after.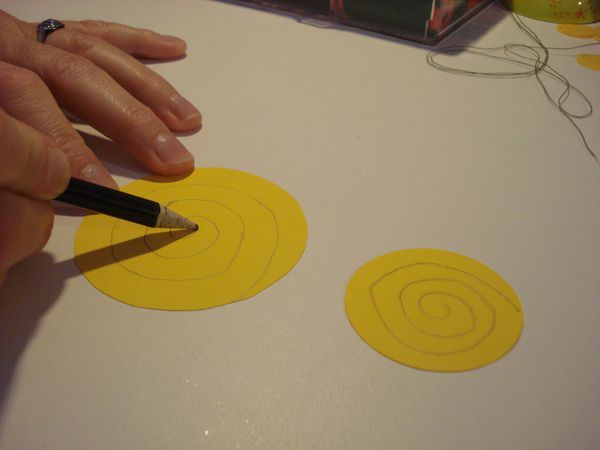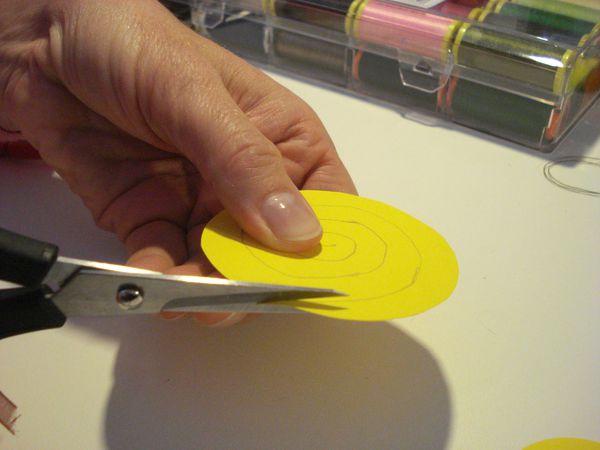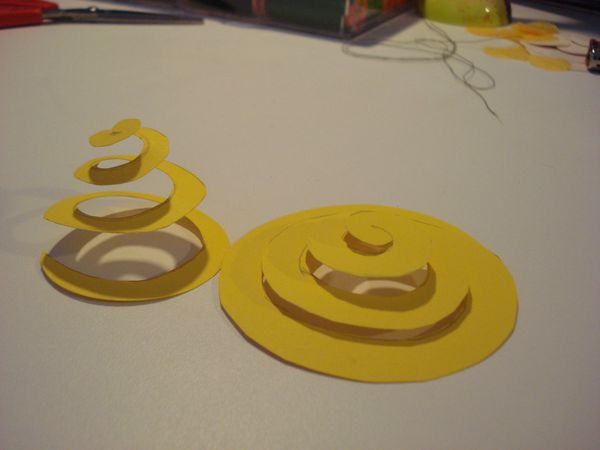 Chalquez maintenant les bords pour plus de relief ensuite.
Now chalk the extern side for more "relief" after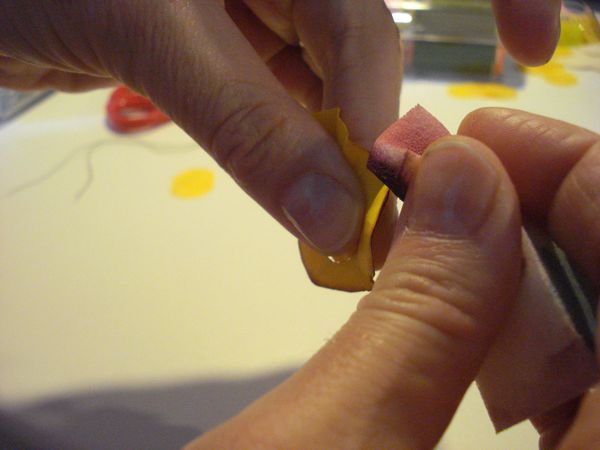 Puis froisser et faites en une petite boule,
Then crumple it and make a little ball with it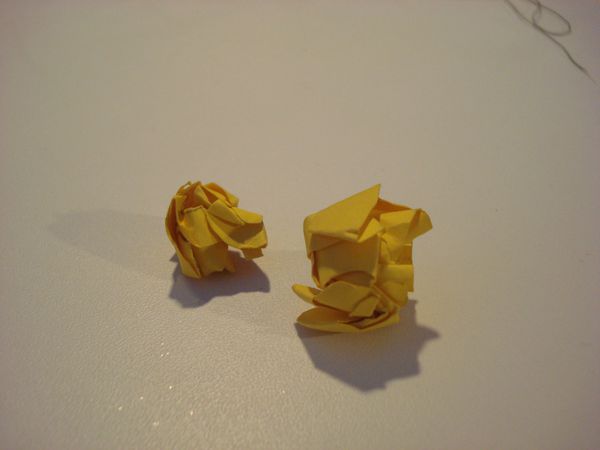 Défaites votre boule ,séparez votre papier en deux dans l'épaisseur et enroulez votre bande "frisée" sur elle même en commençant par la pointe extérieure,
Untie your ball ,separate your paper in two in the thickness and then roll the "curly" strip on itself beginning by the external end,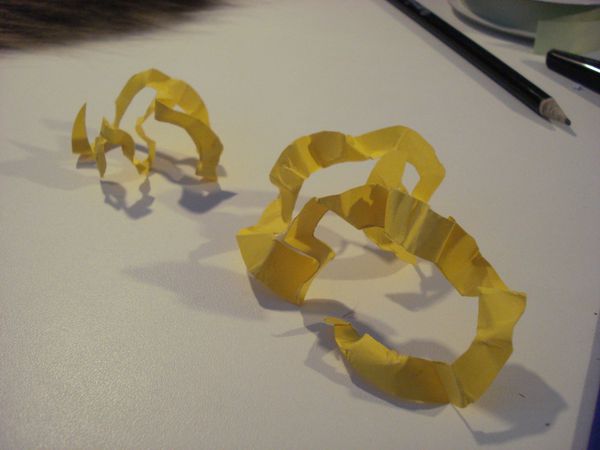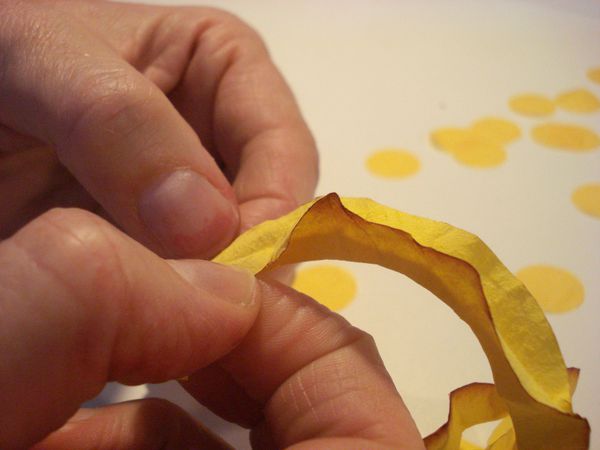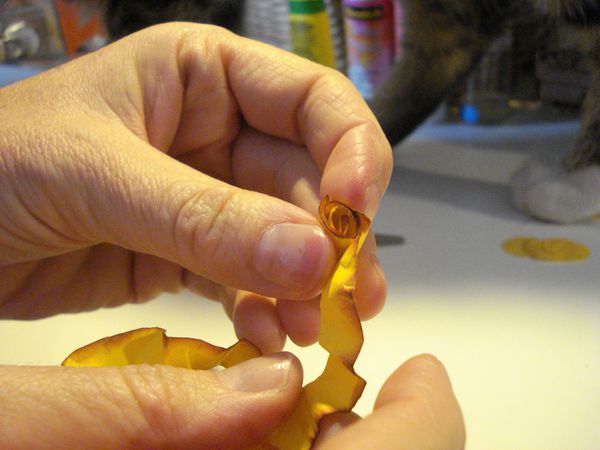 Bien sur pour cela vous ne devez pas vous laisser perturber par votre assistant.............mdr,
For sure ,for that dont accept to be perturbated by your assistant.............lol,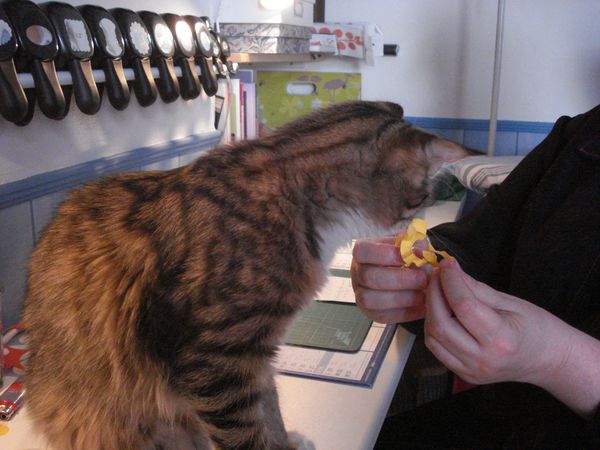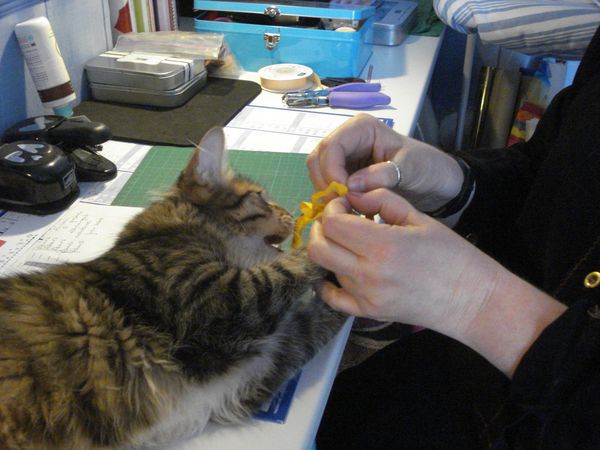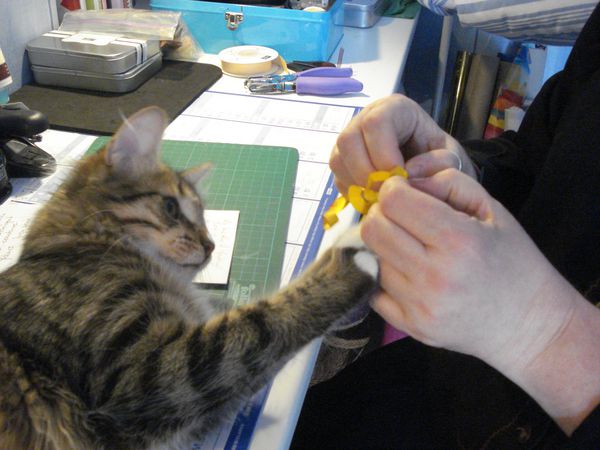 Arrivée à la fin mettre une grosse pointe de colle sur le rond central puis collez à l'arrière de votre rose
When arrived at the end ,put some glue on the central round and stick on the back of your rose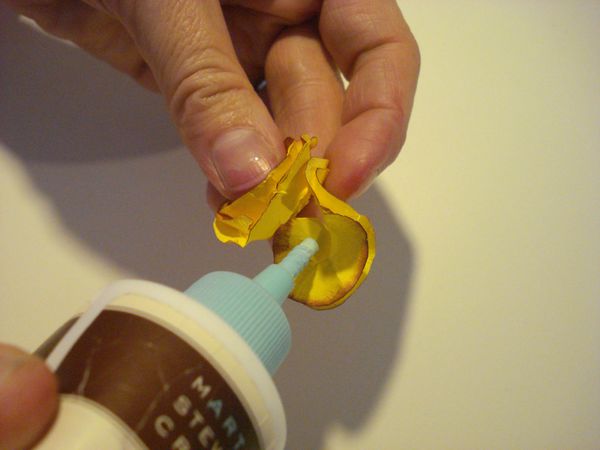 Et voilà le résultat :
And here is the result :
2) -- Rose en ruban
-- Ribbon rose
Couper 20 cm du ruban de votre choix,
Cut 20 cm of the ribbon of your choice,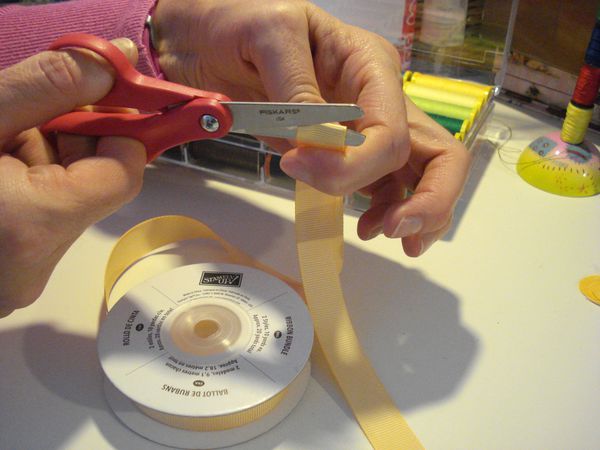 A l'aide d'une aiguille et du fil ,faites une sorte de "batti" sur un des bord de votre ruban ,
With a thread and a needle , do little stiches along the side of your ribbon ,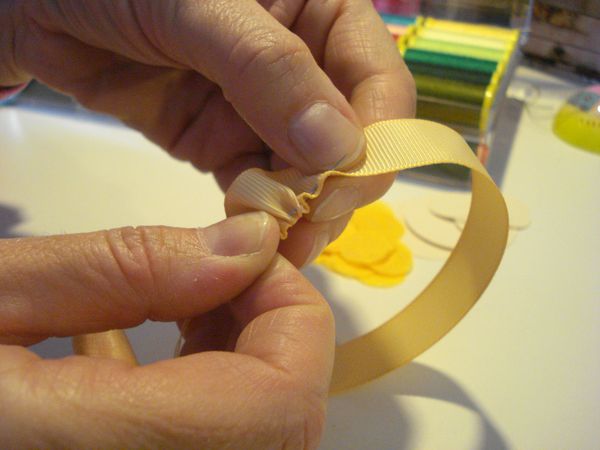 Froncez votre ruban et faites un noeud bien serré ,
Gather your ribbon,and make a tight knot ,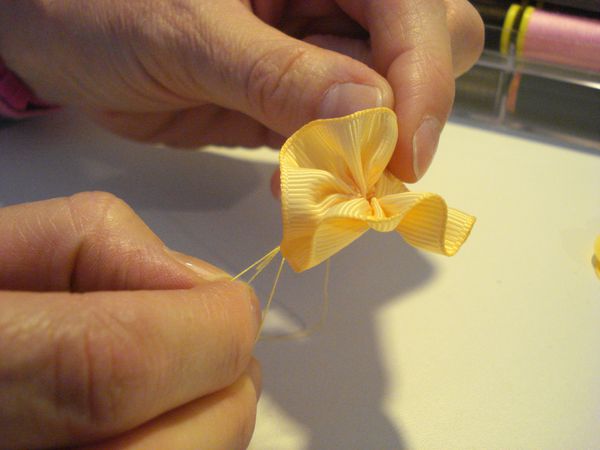 Agrémentez d'un brad ou tout autre embellissement au centre et voilà :
Add a brad in the middle or any other embellishment and here it is :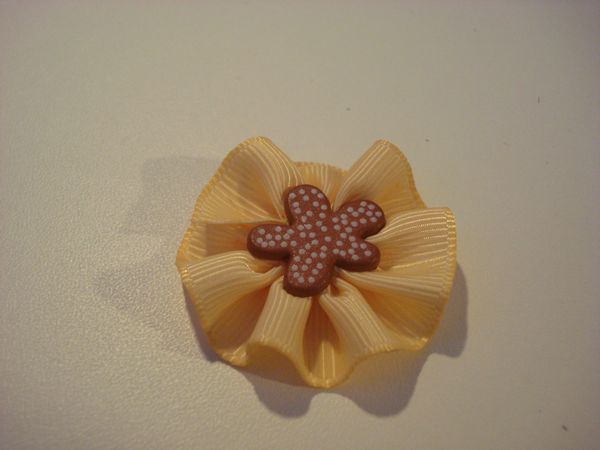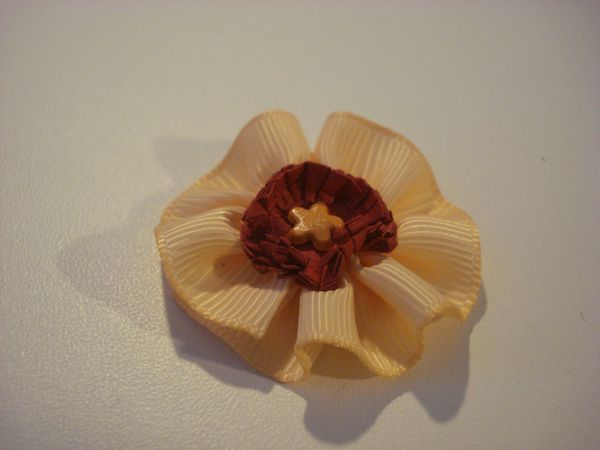 3) -- Rose en papier de soie
--Tissue paper rose
Coupez des bandes de papier de soie ,pliez les en huit .
A l'aide d'une perfo et en les coinçant entre deux feuilles de papier "fort" pour ne pas coincer ,couper plusieurs ronds dans du papier de soie ,
Cut a band of tissue paper and fold it in eight.Put it between two pieces of cardstock.
With a punch ,cut several circles in the tissu paper ,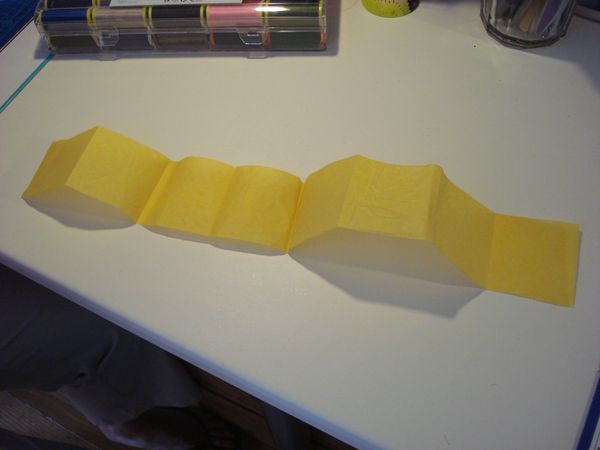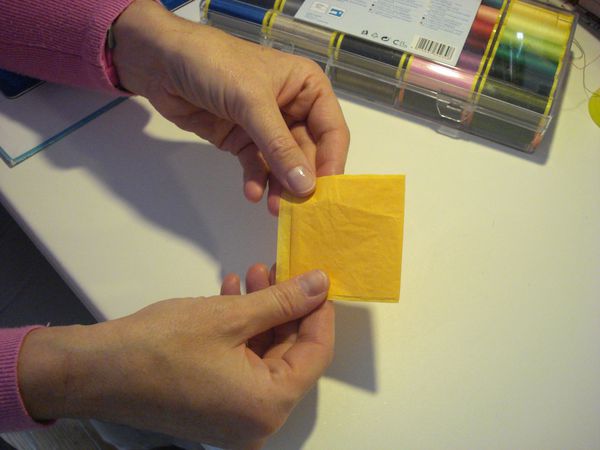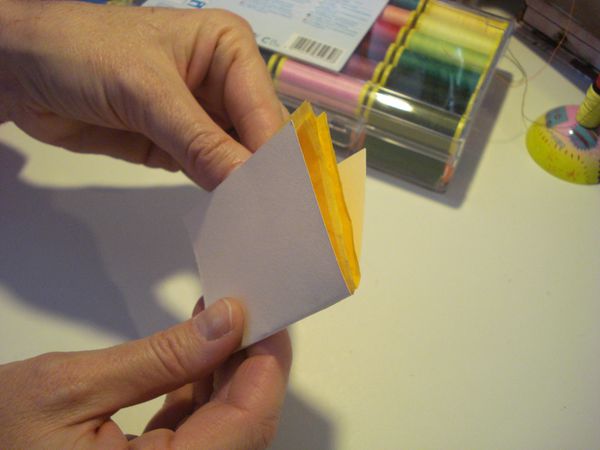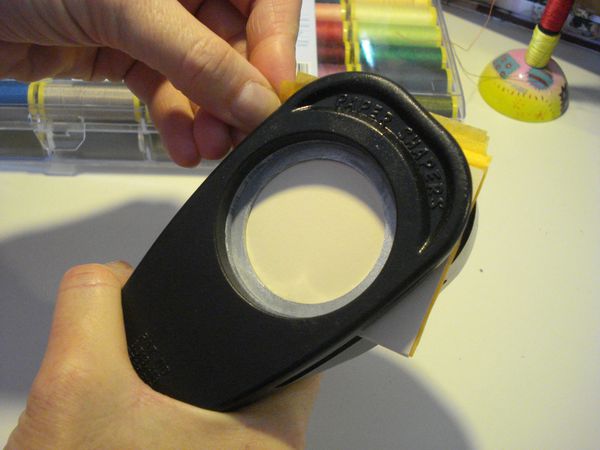 Pliez les ronds obtenus en deux ,
Fold the circles in two ,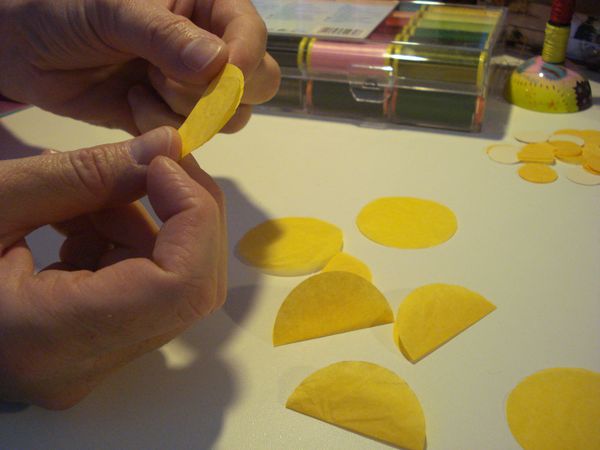 Piquer à petits points autour de l'arrondi et reunissez les par quatre.
Sew little stitches all around the round side and put them together by four.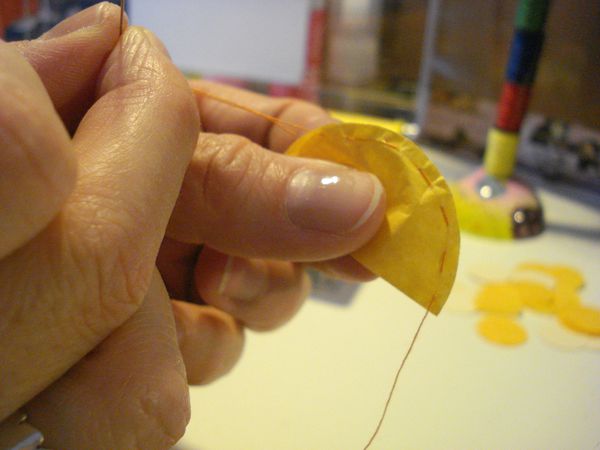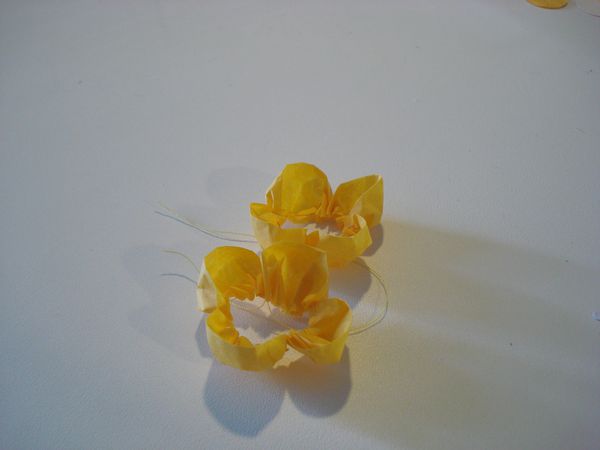 Assemblez les par deux en les décalant puis ajouter un bouton ou un gros brad pour former le coeur
Assemble them by two and add a brad or a button for the heart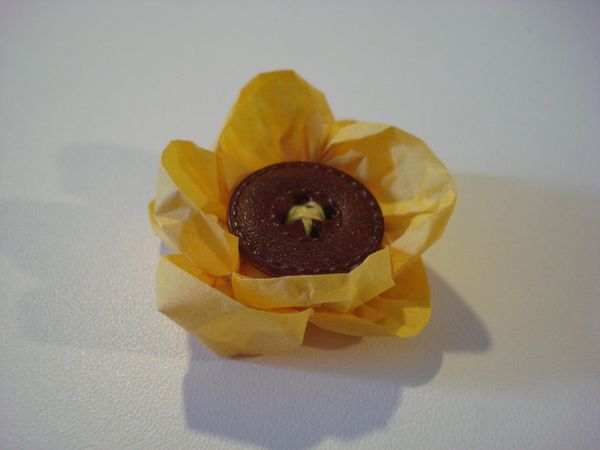 4) --Fleur artichaud
--Artichoke flower
A l'aide de vos perfos (1" et ovale) coupez 5 ronds et 8 ovaux.
With your punch (1" and ovale) cut 5 circles and 8 ovales.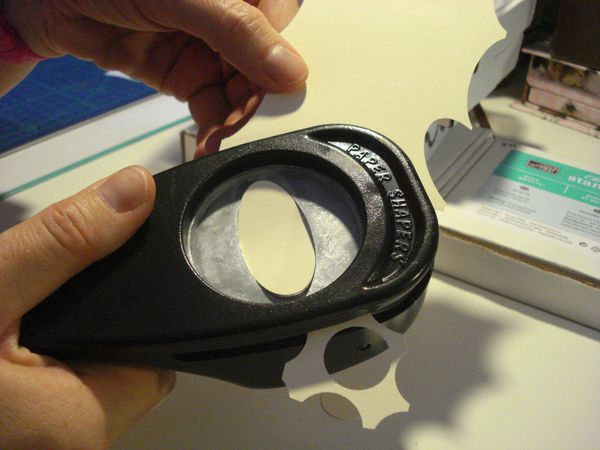 Perforez un petit trou sur un côté ,
Make a small hole on a side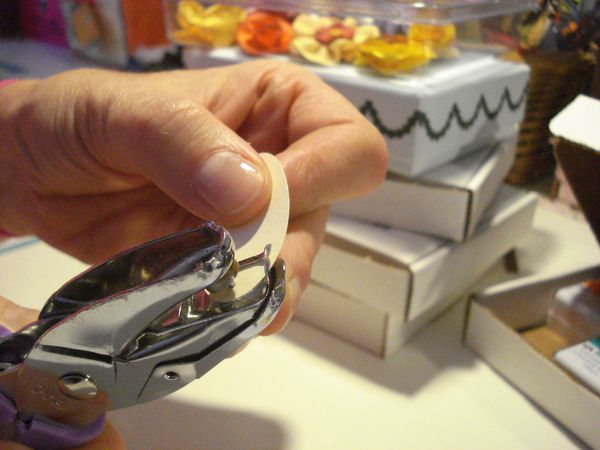 Encrez le côté troué avec une couleur claire de votre choix (ici jaune yoyo)
Ink the pierced side with the color of your choice (here yoyo yellow)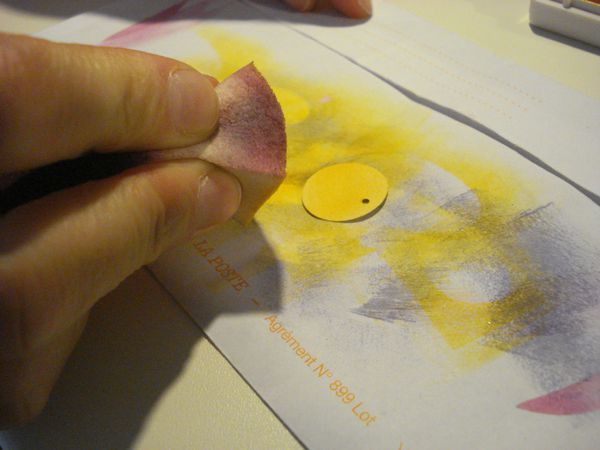 Puis sur l'autre côté ,chalkez avec une ou plusieurs autres couleurs...
Then chalk the other side with one or several others colors......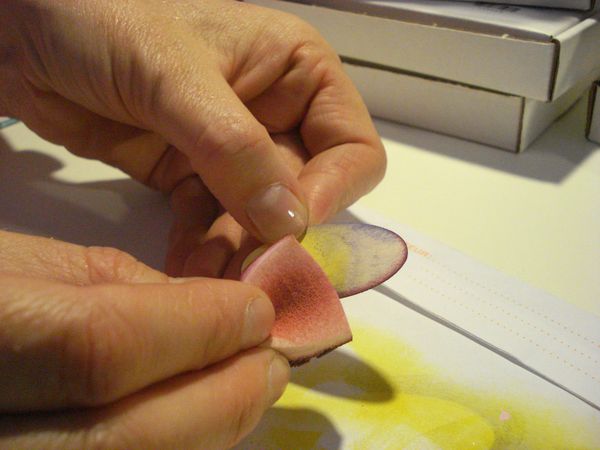 Pincez ensuite chaque pétales sur le côté opposé au côté troué
Pince now each petals on the opposite side of the hole.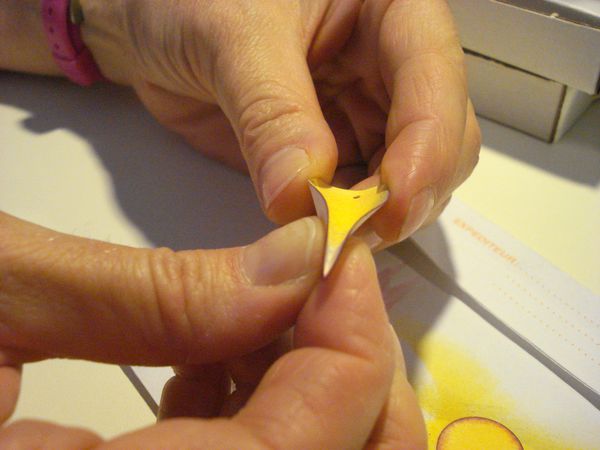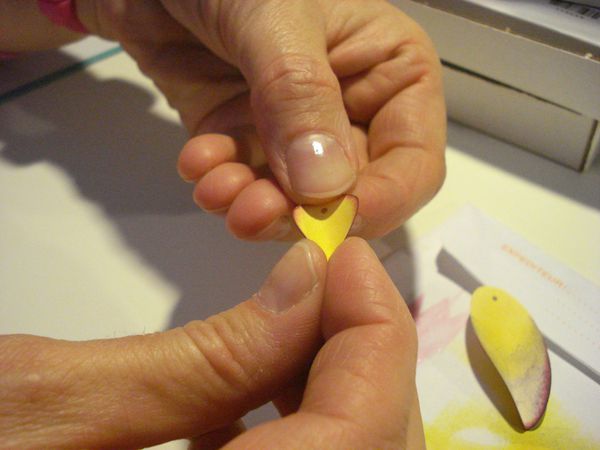 Assemblez tous les pétales par un brad sur le milieu,
Assemble all the petals with a brad in the middle,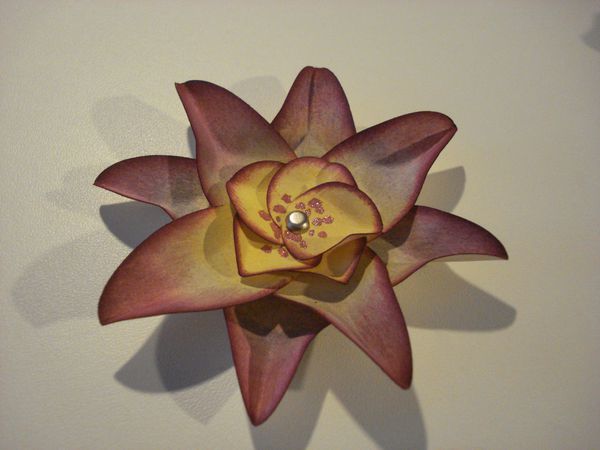 5) -- Pensée
-- Pansy
A l'aide de votre perfo papillon Stampin'up! decoupez deux papillons
With your Stampin'up! butterfly punch,cut two butterflies,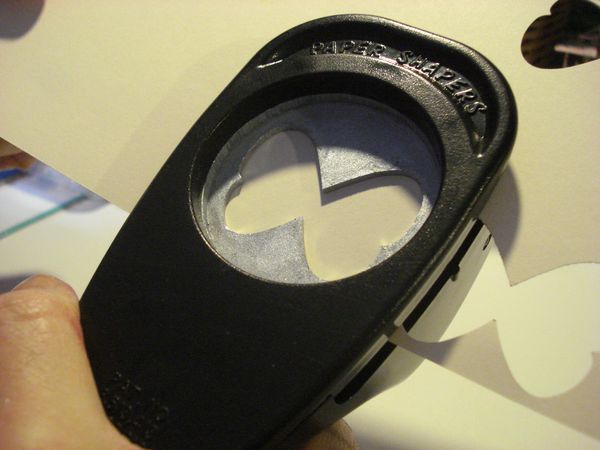 Encrez le centre d'une couleur claire puis les bords d'une ou deux couleurs
Ink the middle with a light color and the border with one or more colors,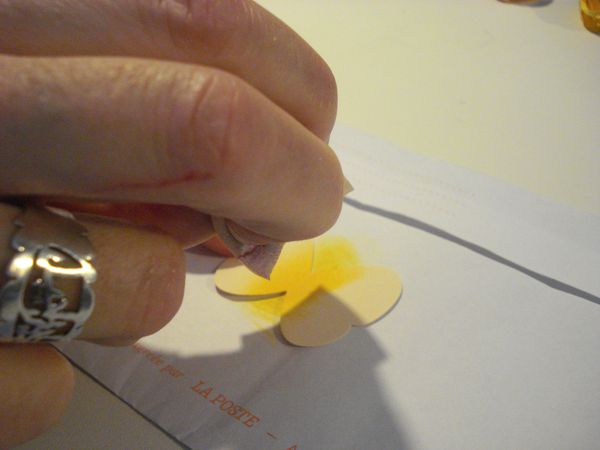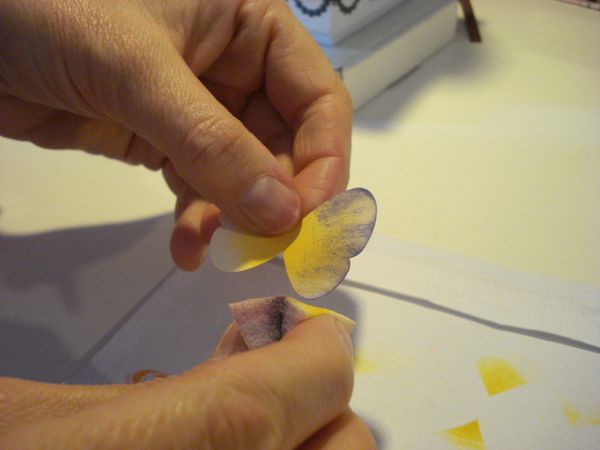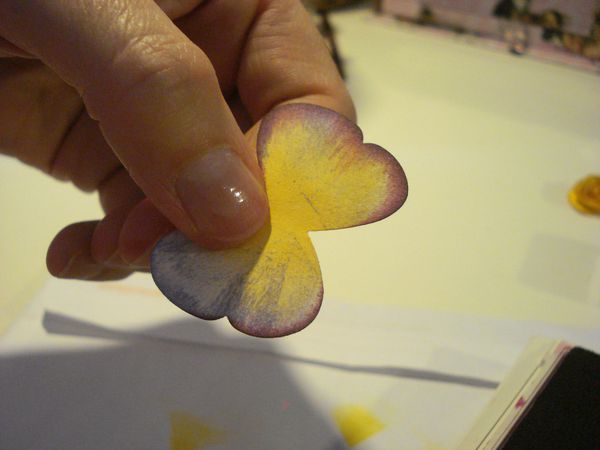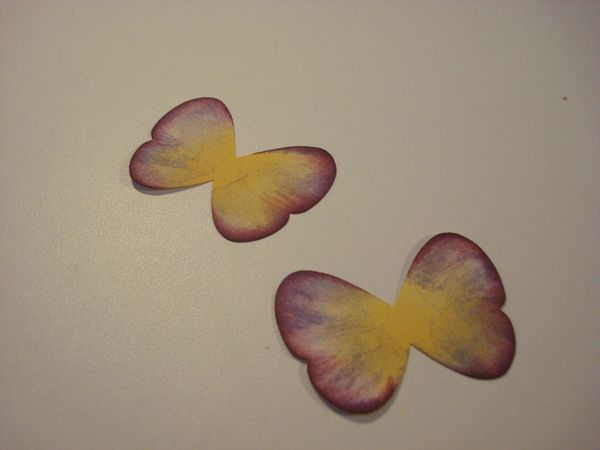 Collez ensuite vos deux papillons l'un sur l'autre par un point de colle au centre
Stick your two butterflies together by a tiny point of glue in the middle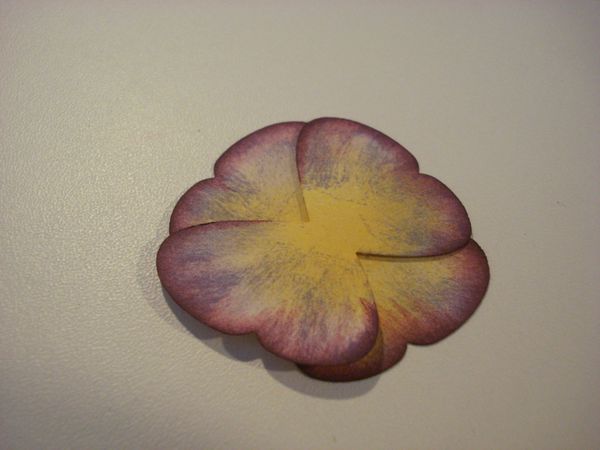 Percez au centre ,décorez légèrement et ajouter un brad ,
Pierce in the middle,decorate a little bit and add a brad,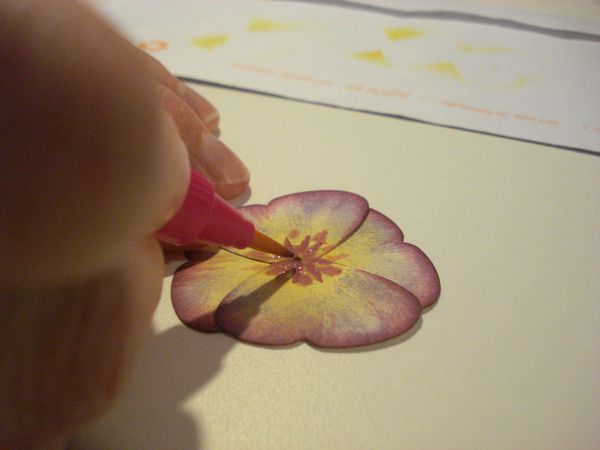 Avec votre plioir en os ,bombez un peu vos pétales,
With your bone folder ,"curl" a little bit your petals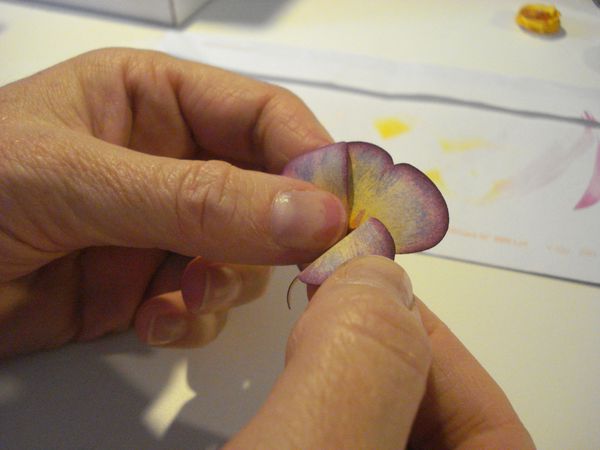 Et voici le résultat :
And here is the result :
J'espère que j'aurais pu vous être utile avec ces tutos,n'hésitez pas à me laisser un petit commentaire.
Hope I have been a little bit useful with those tutos,don't hesitate to leave a little comment